Our restaurant in Alsemberg is back open!
Dear customers and friends,
In the unstable world we live in, it's hard to maintain all the old habits.
Until today, and for years, we ensured free delivery for orders from 30€, but with the increases of all kinds, we are forced to raise this limit to 50€. It is not light heartedly, and certainly not to increase our margins, but we are forced to adapt to ever-increasing costs.
Below this limit, the delivery will cost a maximum of 10€ until reaching an amount of 50€.
For example, for an order of 26€, we will charge 10€ for the delivery, but for an amount of 44€, we will charge 6€ to arrive at the minimum of 50€; the best for you being to arrive at orders of 50€ minimum.
To compensate (a little) for this new measure, and to encourage you to pick up your orders yourself, we are offering you one drink per €25 purchase from the following list: Bru Gazeuse, Spa Reine, Coca, Fanta , Singha, Chang (only valid for "Pick-up" orders placed via our website)
Thank you for your understanding.
THE ART OF
THAI CUISINE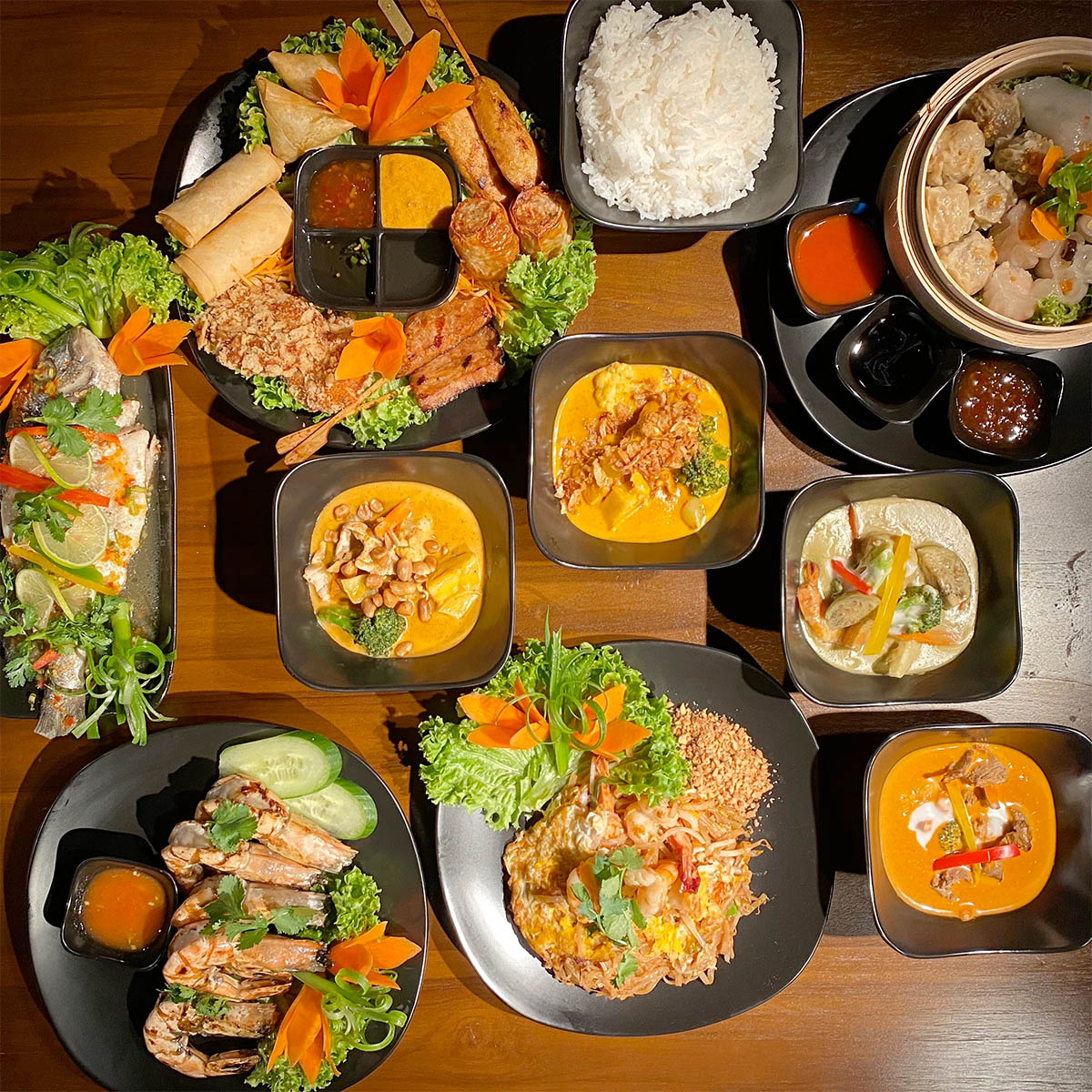 The art of Thai cuisine is the extraordinary combination of sweet, salty, sweet and sour, spices, with stunning aromas and a delicate presentation.
Thai cuisine is one of the most renowned and appreciated in the world. All its charm comes from the variety of ingredients which combine harmoniously, both by their taste and by the use of herbs and spices.
The specificity of Thai food comes not only from the food itself, but also from the way people enjoy an authentic meal.
A typical Thai meal includes rice, fish, soup, spicy salad, vegetables, and sometimes a dish of pork, chicken, or beef.
Thai cuisine combines the best of Chinese and Indian gastronomic traditions such as noodles, curries, sweet and sour dishes and exotic spices.
At Thai Café, we strive every day to prove ourselves worthy of this magnificent cultural heritage.
Our Thai cooks prepare for you the best ingredients that we select with respect for our suppliers. Meat and vegetables, mostly organic, come as much as possible from small local producers. We do not use a flavor enhancer, and favor Tagatose instead of conventional sugar (it is a 100% natural product which is suitable for diabetics, and whose calorific content is equal to half the regular sugar).
Enjoy your meal ...